news culture African Kung-Fu Nazis…this movie REALLY exists!
Nanars are rarely appreciated for their true value, that of cinematic desire, which necessarily exceeds the budget allocated to bring it to the big screen. However, thanks to their keen sense of versatility and concepts that only Bis cinema can dare to achieve, these cinematic nuggets are born. The film that brings us together today is definitely of this caliber.
summary
African Kung Fu Nazis

Uganda's Hollywood
African Kung Fu Nazis
African Kung-Fu Nazis… just reading this title sets the tone. This unidentified cinematic object marked my cinephilia and still does nearly four years after viewing it one of the cinematic marvels whose viewing was a pure guilty pleasure 100% assumed and encouraged. Written by Sebastian Stein and directed by the latter in collaboration with "Ninja Man" Samuel K. NKansah, this film was released in 2019 and caused a small stir in certain circles of insiders, including readers of Mad Movies magazine.
And for good reason, African Kung-Fu Nazis is one of the first productions from Ghana to cross our borders, and won the hearts of nanar lovers when it came out. The teams put their heart into their work here and try with the means at their disposal – a staggering budget of… 20,000 US dollars – to print on film a chronic action film whose only script guarantees a sincere and communicative laugh .
In African Kung-Fu Nazis, Adolf Hitler did not die at the end of World War II. Instead, he escapes in a submarine and lands on the coast of Ghana, a country located in West Africa. Joined by two other historical figures – Japanese Prime Minister Hideki Tojo and "Horseman" Göring – The former leader of the Third Reich is determined to conquer the world with the help of his new legions of "Gan-Arians" as well as his karate superpowers.
---
Uganda's Hollywood
African Kung-Fu Nazis are part of an "action" cinematic momentum that has taken off in several African countries and of which Ramon Film Productions is one of the leading representatives. It is usually called Wakaliwood – Uganda's Hollywood – this studio based in Wakaliga (a slum in Kampala – the capital of Uganda) is at the origin of several works that have come to enrich the library of B-series fans and Mr. Wakaliwood are Who killed Captain Alex?, Bad black AND Tebaatusasula.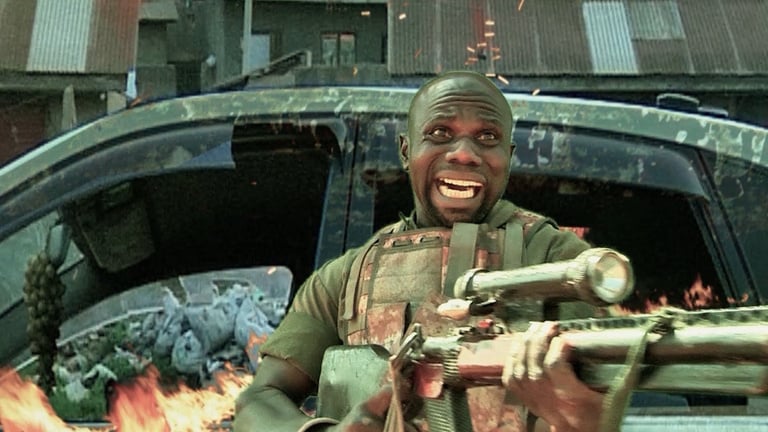 ---